September 21st, 2016
This is a new video of Magissimo Prints and poetry by Pro-Creations Enterprises and Maria Watt. This beautiful compilation of colorful and artistic healing designs is combined with the spiritually channeled poetry and soothing sounds of Debussy's, Claire de Lune. Feel free to leave a comment. Would love to know what you think. www.youtu.be/dK9dbStWgrs

Good Health and Blessings Always :)
January 22nd, 2016
Hopefully 2016 finds you well and that you've kept your commitments to starting a healthy exercise program. Keeping your body energy moving is important to maintain lightness especially when the heaviness of the world's problems or even your own, can way you down. It can be difficult to find enough passion to begin anything, especially if it involves hard work. Don't worry about the outcome just begin. Just take one small step to change. Stay in every moment claiming your own power. If you hear yourself saying words like, BUT, CAN'T, or anything else negative, override your thought process by changing those words to I WILL, I CAN. Positivity is your best friend working along side of you, so grab some weights, dance, get out and walk in nature, swim, or do yoga, but do something that gets your body moving! An easy start is simple as a smile, so SMILE NOW because you are about to embark on a magical creative journey, produced by you, directed by you, starring you! It's your self reward, so get set and ACTION!
June 28th, 2015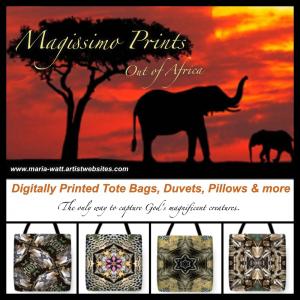 Magissimo Prints has just created a series of beautiful ads for home decor, fashionable tote bags and accessories. Each animal print is acrylic and digitally produced to capture a creatively artistic representation of the animal kingdom. Some of God's creatures are in desperate need of our help and that is why Magissimo Prints will donate a dollar to the WWF organization on every purchase from the Out of Africa series.

The numbers are very low for many species. Below are some shocking statistics that have put some of our beautiful animals on the endangered or vulnerable extinction list.

97% of wild tigers have been lost in just over a century. As few as 3,200 tigers exist in the wild today. (Endangered)

A century ago there were probably more than 230,000 orangutans in total, but the Bornean orangutan is now estimated to number about 45,000-69,000 (Endangered) and the Sumatran about 7,500 (Critically Endangered).

The survival and the protection of the polar bear habitat are urgent issues for WWF. Only 20,000-25,000 left have been reported. (Vulnerable)

The chimpanzee population is currently 172,700 to 299,700 (Endangered)

The Elephant, Gorilla, Dolphin, Rhino, Tree Kangaroo, Whale and Sea Turtle are also on the Endangered list.

Let's help save our animal friends!

"MAGISSIMO PRINTS - DIGITALLY PRINTED - THIS IS THE ONLY WAS WE CAPTURE GOD'S CREATURES."
April 10th, 2014
JUST ASK

It frustrates me to no end all the responsibilities I bare.
I ask you truly, does this seem fair?

I am always working very hard to complete each and every chore,
Only to find, there lies ahead more.

Sometimes I feel I am being pulled in an opposite direction,
Even in my red squares soul protection.

I imagine it would be nice having a day with nothing to do.
Perhaps an hour or maybe two.

But here within this maze, I'm trapped; to cook, to clean to work and to heal,
And to even be the driver, behind the wheel.

Some days I think maybe I'll just get up and leave and run far away.
Because the child in me, yearns to play.

Or maybe I could hope for not one person to call upon my name.
Alas, I know, this would only bring me shame.

I need balance that I lost somewhere.
"Please help me find it, so I stop pulling my hair!"

Shift some burdens, I plead, that clutter my head.
Because today I only want to stay in bed.

Wow, how fast you heed my dire request.
For my wish has been granted for a day of rest.

I now see when we struggle with even one life task?
To solve it, all you need is to simple, just ask.

BLESSINGS ON YOUR SOUL/SOLE JOURNEY.

By: Maria Watt
(Copyright 2007)

March 1st, 2013
I am thank for every sale and every one who takes the time to look at my art. May it give you as much pleasure and healing as it has for me. My gratitude will always be within me as it is part of my essence. It is a great feeling that makes my spirit dance on the most awful days. My wish is for everyone to sit in gratitude and let it uplift you. Look at the beauty all around, then look at it again from a different view. Our eyes are the windows of the soul. Look within...do you like what you see?

Blessings for a beautiful day!
December 8th, 2012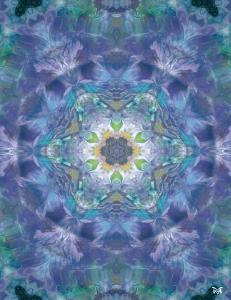 This print has received The Artist of Distinction Award by Ontario Shores Centre 2011

WHEN TWO WORLDS COLLIDE

I would love to spread my wings and soar among the stars
Or visit the planets: Venus, Jupiter or Mars.

I'd dance in the heavens, on fluffy clouds of white.
And sleep on the moon, in the darkness of each night.

But here on earth I'm grounded, just waiting for the day,
When angels and faeries fly again. That's what I pray.

Dream of no more carbon emissions, from planes in the sky,
Just glistening streams of light, where to and fro we fly.

No more sustenance that's needed, to keep us alive.
Only fortifying energies, to help souls thrive.

Bye animal slaughter and tainted produce in stores.
Hail to flora and fauna and beautiful, clean shores.

I see earth and its people change with every full moon.
I feel the new realm forming and it's coming real soon.

I smell rains of heaven washing away the debris.
There's a shift in my body and it's freedom for me.

I savour the moment and say good-bye to the past.
There's a flash flood of memories that goes by real fast.

I listen to the wisdom of my ethereal guide.
I know it is going to happen when two worlds collide.

By Maria Watt
January 20th, 2012
This print and poem was selected by the Pickering Parks and Landscape and is placed on a signage in the butterfly habitat in David Farr Park

BUTTERFLY MEADOW

As I flutter in search of hope, I look down to see a brick jungle.
Not one milkweed to quench my thirst or feed a dying hunger.
Alas a silent wind pushes me through the fearful and painful dark.
And suddenly through a light I soar among a meadow called David Farr Park.

Maria Watt
August 18, 2010
January 26th, 2011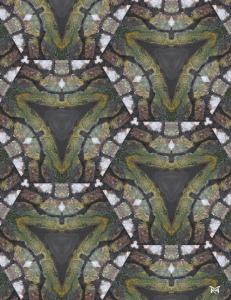 I have decided to share a piece of poetry to go along with one of my Magissimo prints entitled Flying South. I hope you enjoy the gift I receive everyday when I work with spirit. I truly believe there is something much greater than just our world as we know it. Blessings to one and all.


Imagine a world where there was no flight.
No birds in the day and no bats at night.
How silent and empty would be the trees.
No pretty butterflies or buzzing bees.

Imagine a sky with no moon or sun.
I can't see living without either one.
Darkness and gloom would be upon us all.
No glistening rain or snowflakes that fall.

Now imagine if everyting was free.
Imagine how light and airy you'd be.

To the skies that so often speak.
To the skies are answers I seek.
To the skies where stars shine at night,
'Til the dawn breaks at sun's first light.

Honk, honk, honk, honk echoing in my head.
I look to the sky where I'm being led.
Imagine geese representing the vee.
Imagine peace, and a world heavenly.

Maria Watt
January 26, 2011